Do you know how Los Angeles Realtors are operating during COVID-19? The coronavirus outbreak is forcing the real estate market to adapt, especially in the city of Los Angeles. Real estate agents are finding creative solutions to continue supporting clients while following social distancing guidelines. Laci Buller and her team at Real Legacy Estate Partners have their finger on the pulse of the real estate market, as well as the latest health and safety precautions. Our mission has always been to creatively solve real estate problems for clients and achieve stellar results. While the way we operate may look different today, our commitment to helping our clients build a legacy through real estate has never been stronger.
What Effect Will COVID-19 and the Stay-at-Home Order Have on Real Estate?
Homebuying has been classified as 'essential' according to Los Angeles County's orders. However, social distancing and the shelter-in-place orders have required changes in the way that Realtors show properties. In-person showings are currently on hold in the City of Los Angeles, though the guidelines are changing quickly in this ever-evolving COVID-19 situation, so it's always best to check with your agent for the latest information.. The California Association of Realtors has been gathering data on the state of the industry and the broader economy. One bright side is that home prices have remained relatively stable, with the market seeming to favor neither buyers or sellers at this time.
Buying a House in Los Angeles During Coronavirus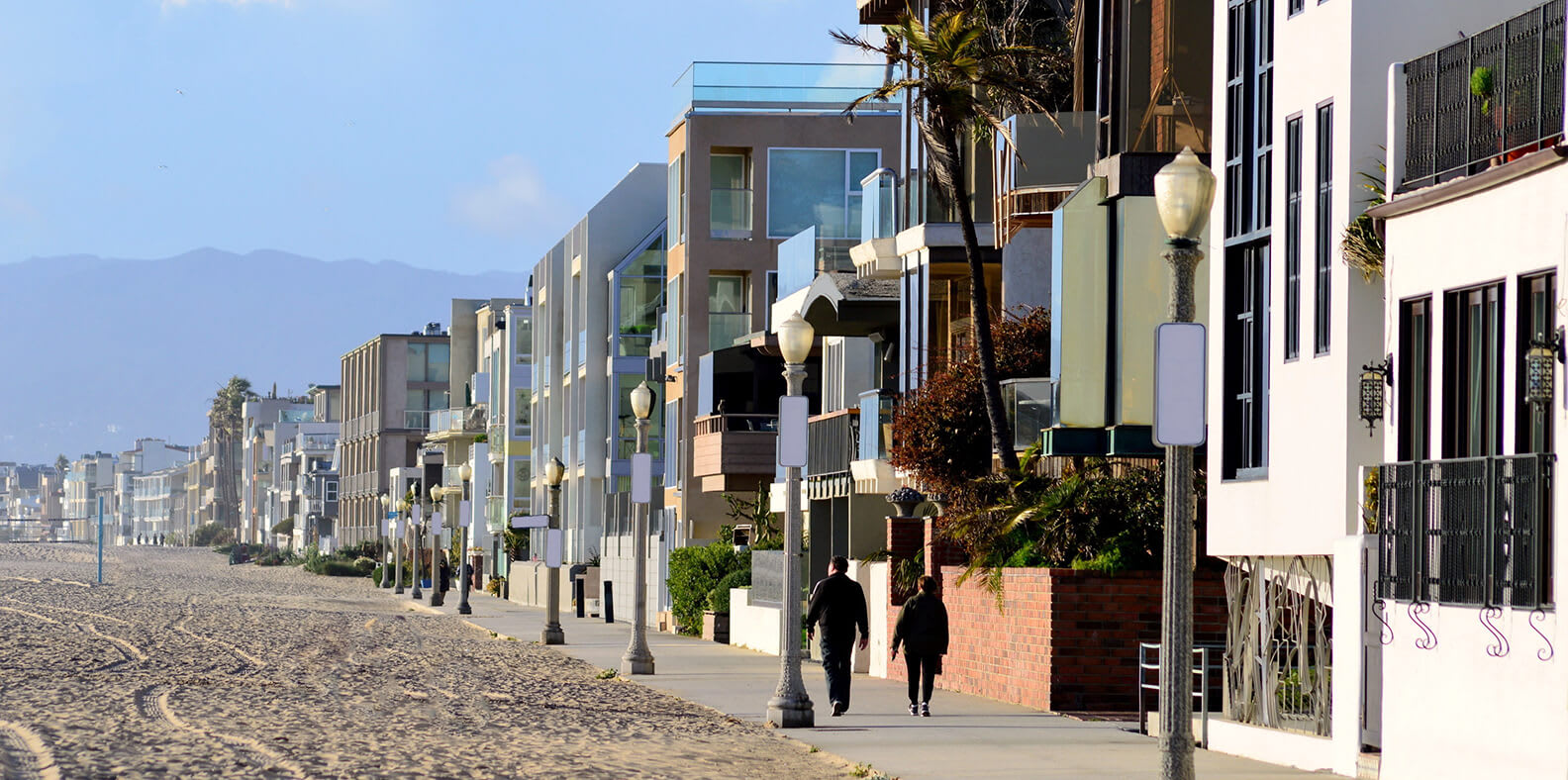 Is it possible to buy property in Los Angeles during the "Safer At Home" orders? The answer is Yes. People are still buying and selling houses, but agents are using technology to make the process as safe as possible. Between the 360 degree virtual tours, and video conferencing platforms such as Zoom, buyers can view and examine the property in great detail, while following social distancing precautions.
Virtual tours are an essential tool in the repertoire of a Realtor in 2020. These online insights into the look and feel of a property have grown much more sophisticated over the last few years. Some have even expanded into camera-drone tours of the neighborhood, to give potential buyers an insight into local amenities, general security, freeway access, and more.
Realtors are also leaning heavily on video conferencing as a way of maintaining relationships with sellers and connecting with their teams. Many who are used to dealing with out of state or international clients are already practiced with this kind of technology.
Extra precautions are being taken when touring properties in person. Many Realtors are still offering tours of new construction or otherwise unoccupied properties. At this time, it is necessary for Realtors to step up and reassure their clients by taking steps such as disinfecting premises between viewings.
E-closings have also massively surged in popularity since social distancing became standard practice. The ability to sign all documents electronically is making it much more practical to close in Los Angeles County.
Unfortunately, social distancing means that inspections, appraisals, even loan approvals need more time than they did before the pandemic. However, so long as you factor this additional time into your plans, there is no reason why you can't buy or sell in the Los Angeles housing market during the coronavirus pandemic. There are plenty of online resources available. The financial markets are currently holding their value and numbers of virtual property showings are up. With the number of buyers diminished by economic conditions, you may be able to negotiate a more favorable price than you would expect at other times.
If you are considering buying or selling a home, or investing in real estate in Los Angeles, we invite you to contact our team for a phone consultation.