If you're selling your Westside LA home, it's important to make sure that it looks its best. It's no surprise that well-staged homes for sale in West Los Angeles sell faster and for far more than the asking price compared to those that haven't been staged. Following these staging tips below can help ensure your home is staged to perfection in order to sell it quickly and for the best price possible.
Gathering spaces
For gathering spaces in Westside LA real estate, the key is to create a welcoming and spacious environment, with seating for family and guests to rest and chat, tables for holding treats and beverages, and tastefully eye-catching decor. Spaces like the kitchen and living room are theoretical centerpieces in a luxury home, so you'll want to highlight these gather-friendly rooms in the best possible way.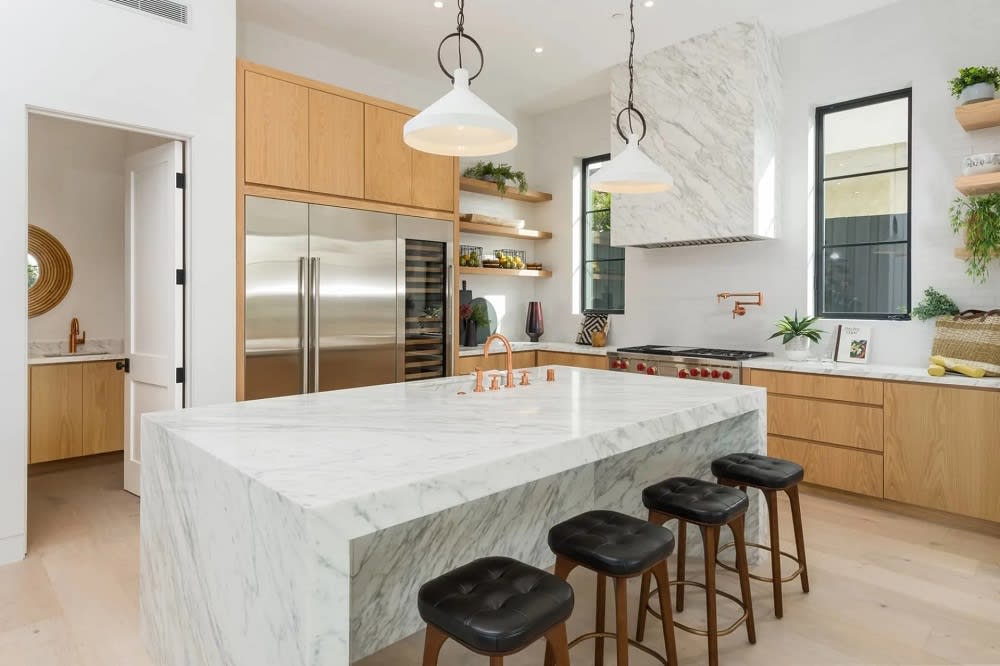 To stage the
kitchen
in homes for sale in West Los Angeles, start by decluttering cabinets, fridge, freezer, and countertops. Then give the room a good cleaning. Don't forget about under the fridge and behind the oven! Once the kitchen is clean and decluttered, you can move to the next steps in the staging process.
Arrange breakfast bar/eat-in kitchen furniture to create an inviting and functional space. Ensure there are clear walkways and that furniture is in tip-top condition. Adding some greenery can help to brighten up the space. Fresh flowers add a touch of brightness and a welcoming atmosphere. Finally, pack away and store any countertop appliances that you rarely use and ensure the countertop appliances you keep out are polished and shiny.


As for the
living rooms
, start by decluttering surfaces like the coffee table and any bookshelves, and follow up with a deep clean that includes dusting, washing drapes, spot-treating upholstery, and cleaning the carpet if one is present. Then, arrange your furniture in a way that promotes conversation and makes the space seem larger. Adding some cozy blankets and pillows can help the space look more inviting, along with placing a coffee table book or a simple vase of flowers on the coffee table.
Additional steps for staging living rooms in homes for sale on the Westside include updating the upholstery or fully replacing any old or worn-out furniture pieces, removing personal items like photographs and priceless sentimental collectibles, and ensuring that all electronics are in good working condition and cords are hidden from view. Finally, you may choose to finish the space by adding some widely-appealing wall art to bring color and life to the room.
Restful relaxation
For
bedrooms
in homes for sale in West Los Angeles, the staging should promote relaxation and rest. To do this, start by removing family photos and sentimental objects you don't want to be damaged during home showings. Follow up by deep cleaning the room, including washing and cleaning the sheets, blankets, pillows, carpet, window coverings, and dusting surfaces.

Primary Bedroom
The primary bedroom of your Westside LA home is where a potential buyer will go to wind down and gain some peace. You'll want to ensure it's widely appealing and relaxing to most
potential buyers
. To do so, first, ensure the furniture works together for a cohesive aesthetic. Remove pieces that seem out of place and add pieces that contribute to the overall design. You'll then want to arrange the furniture to create a spacious and functional layout. Consider a Feng Shui layout to increase the flow and amount of space. Finally, have matching nightstands on either side of the bed, and add a vase of fresh flowers on the nightstand for a small but noticeable personal touch.
Some other options to stage your primary include adding some greenery, colorful throw pillows, and an afghan or blanket to the room to liven it up and create a sense of peace. Also, have storage for electronic devices, so the blue light from phone screens and tablets won't interfere with rest. Finally, lighting can make or break a space. A soft, ambient lighting scheme will create a calming atmosphere.

Teen's Room
For a teen's room, you'll want to stage the room in a way that appeals to most buyers. Evaluate the existing furniture, and consider adding a desk if one is missing since students need a dedicated place to study. Add storage solutions like baskets, dressers, and shelving to help keep the space tidy. You should also arrange the furniture to create a functional and spacious layout. Consider adding a reading chair next to a floor lamp and a sound system to play calming music.


Add some greenery to the room, as plants can help reduce stress levels. For the walls, choose framed movie posters or records, landscape photography, or abstract artwork in calming colors. Also, for lighting, consider a mix of bright and ambient lighting. For softer lighting, consider color-changing LED light strips that also feature dimming properties. Ensure that surfaces are clear of personal items like photos, school papers, sketchbooks, and journals.

Kid's Room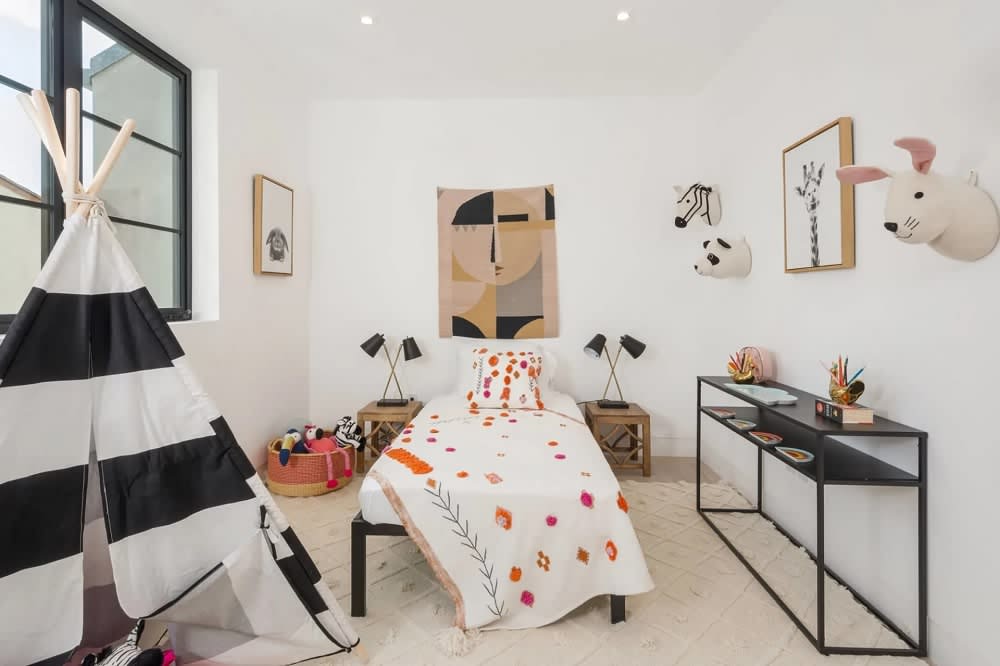 As for rooms for children, stage the room with the following tips in mind. Arrange the furniture to create zones for play, rest, and study, and include plenty of storage solutions, like baskets, toy chests, and dressers, to help keep the space tidy. Also, consider a diffuser with essential oils to help create a calm and relaxing atmosphere, and choose artwork that is cheerful and bright for the walls.
Ensure that there is plenty of lighting in the room, as children need a well-lit space to play and study. Adding a ceiling fan frees up floor space for extra playing room or storage that would otherwise be occupied by a floor fan. Finally, consider adding a playmat, ball pit, or other toys to the room if there is space.
Squeaky clean and calm
With few exceptions, most homes for sale in West Los Angeles have three or four bathrooms. For your house's
bathrooms
, start by decluttering surfaces like the countertop and medicine cabinet, as well as any open shelving. Then, move on to giving the bathroom a good cleaning from top to bottom. Be sure to clean the toilet, shower, tub, floors, and mirrors.

Primary Bath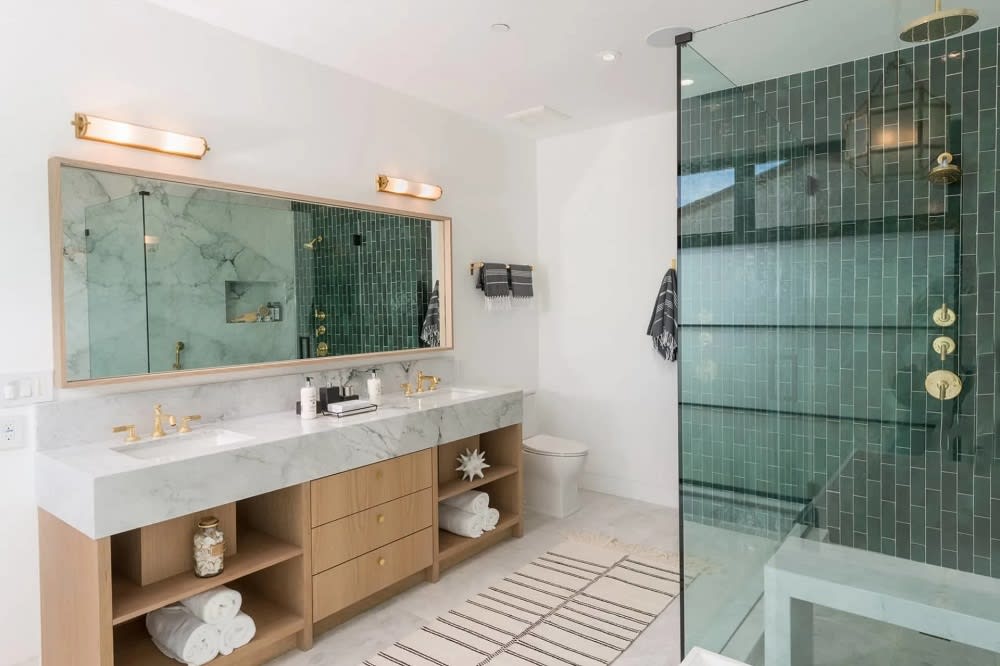 After finishing the cleaning and decluttering, stage the primary bathroom by adding fresh towels in a coordinating color scheme. Place a vase of fresh flowers on the countertop or shelf, add scented candles, and organize bath items like bath salts and bath bombs in pretty containers. Arrange any toiletries and personal items into an attractive and organized display.
People hunting homes for sale in West Los Angeles usually tour multiple properties, sometimes all in the same day, so any tasteful amenity you add can help differentiate your place. In the primary bath, consider adding a makeup mirror and a place to store hair accessories like hair dryers, curling irons, and straighteners. For the walls, choose art that is calming and relaxing, and consider adding a dimmer switch to create different lighting moods.

Secondary Full Bath
For the guest bath, staging tips are similar to those for the master bath. Additional considerations include having accessible storage for extra towels and other toiletries, giving the space a hotel-like feel with carved soaps, lotions, and other small items, and displaying fresh flowers or a plant in a bathroom safe container. For lighting, ensure there is plenty of light for tasks like shaving and applying makeup.

Powder Room
For the powder room, also known as a half bath, consider having extra soap and other toiletries easily accessible in the room's available storage. If the sink is a pedestal, consider adding shelving for holding color coordinator containers for toiletries. Be sure to have hand towels available for guests. For the walls, choose art that is small in size and scale, and for lighting, a bright light fixture is recommended.
Laundry room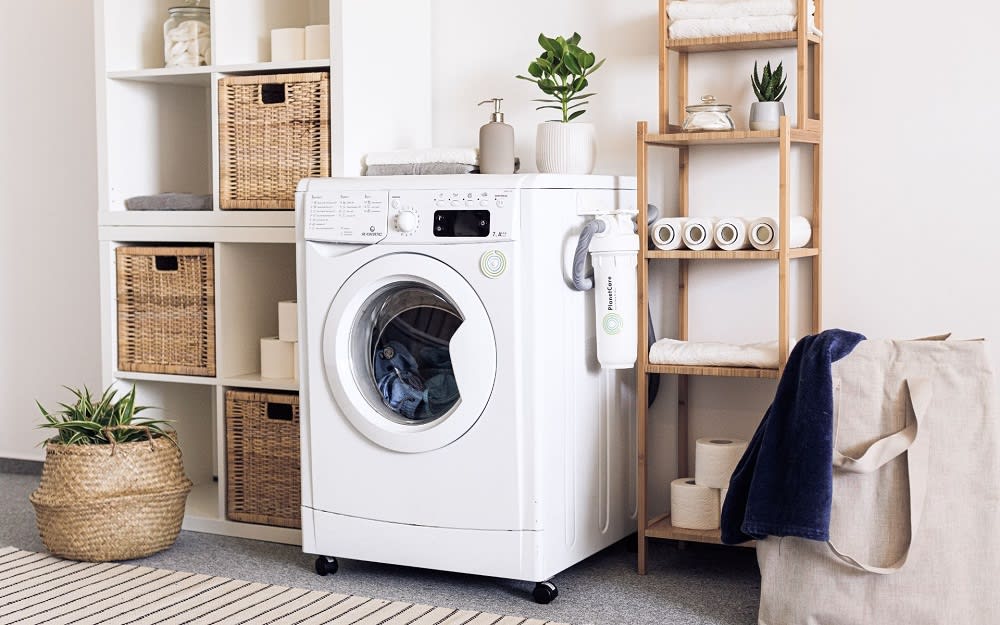 To stage the laundry room add storage solutions for items like laundry detergent, fabric softener, and other supplies. Have a designated space for the laundry bag or hamper, and consider adding a drying rack that can be collapsed out of the way when not in use. Also, have a folding table in a designated spot. For lighting, add a bright light fixture to help with tasks like sorting and folding laundry.

Foyer/Mudroom
For the foyer or mudroom, storage is key. To stage these unheralded spaces in lux homes for sale in West Los Angeles, add hooks for coats, bags, and umbrellas, and have a place for shoes and boots. Consider adding a bench with storage underneath for items like gloves, hats, and scarves. For the walls, choose art that is small in size and scale, and for lighting, add a bright light fixture to help with tasks like sorting and folding laundry.
Home office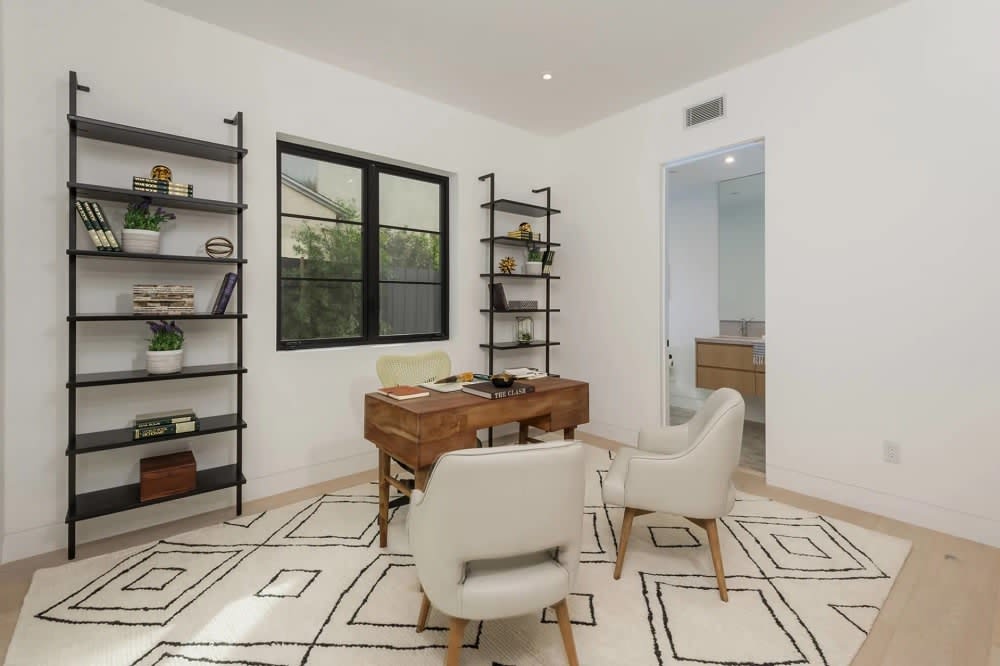 With more people working remotely, office space is a great feature to stage for prospective buyers of West Los Angeles real estate. First, ensure there is a desk with enough space for electronic necessities, and secure a chair that aesthetically matches the desk. Add storage solutions for items like scanners, printers, and office supplies, and consider adding a cup warmer and coasters.
Outdoor Space
For homes with outdoor space, it is important to stage this area as well. To make the most of outdoor space, add inviting and comfortable furniture and consider adding a fire pit, solar lights, or string lights. Have potted plants or flowers to add color and life to the space, and for homes with a pool, ensure that the area is clean and well-maintained.
Looking for Westside homes for sale?
These are just a few of the many staging tips that can help you sell your home in Westside LA for top dollar. For more ideas, reach out to a local realtor like
Laci Buller Group
for professional staging service recommendations and for assistance with the selling process.